Diesel engine stationary concrete pump with high discharge h
Posted On: 03/08/2017 | Posted by: Haomei Concrete Pumps
Stationary concrete pump also called concrete pump,trailer concrete pump.stationary concrete pump with high discharge head is based on technical pioneer achievements.
1,Used as spray pump when Installed with incidental spraying equipment, for concrete, mortar, refractory material and green soil spraying
2,HBT40~60 Concrete pumps are applied for high-rise conveying, railway, tunnel, bridge construction and special applications, hydraulic power, mining and national defense.
Using situation of concrete pump
It has been wildly used in many projects such as high buildings, municipal construction, tunnel, culverts, electricity, power, traffic and so on.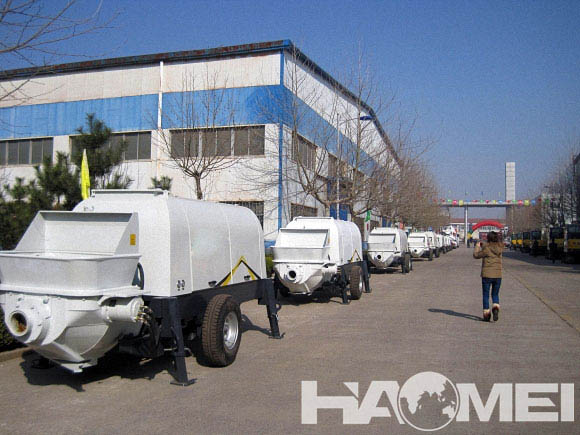 Detail of concrete pump
1.Electronic control system
Electronic control box adopt soft starting device, excellent start performance.
Programmable Logic Controller (PLC) electronic control system making electric circuit simple, function well.
Safety voltage lamp is very convenient for working and repairing at night.
Wired remote control, operating excellent
2.Hydraulic system
The unique open hydraulic system and hydraulic cushion technology contribute to the smaller exchange impact and less heat of the system.
3.Cooling System
Compulsory air-cooled heat exchanger keeps the temperature of the hydraulic oil below 60 degree,that ensures the whole hydraulic system works at normal status.Perfect maintainability and dismantling of all wearing parts are very convenient.
HAOMEI machinery could manufacture all kinds of concrete pumps such as small models with capacity 20,25, 30,40m3/h, medium models with capacity 40, 50m3/h, large models with capacity 60, 803/h. All the models could be driven by electric motor or diesel engine. It is widely used in pumping mortar, fine stone concrete, normal concrete, high performance concrete in small, medium and large construction projects such as building, tunnel, bridge, high way, hydro power, mining and national defense etc.
Original source: https://www.concrete-pump-cn.com/a/diesel-engine-stationary-concrete-pump-w.html
Tags: stationary concrete pump, concr,
Previous: The attention matters for boom pump in the construction
Next: How to operate the concrete boom pump safely