concrete pumping equipment,cement pump truck,concrete trucks
Posted On: 01/11/2016 | Posted by: Haomei Concrete Pumps
The details of concrete pumping equipment,cement pump truck,concrete trucks for sale.
1.Power system of concrete trailer pump
Hydraulic oil pump: Germany Rexroth or Japan Kawasaki are adjusted.
Diesel power: Germany Deutz, Weichai, Schneider, Japan Siemens, Mitsubishi are adjusted.
The main power could be adjusted by the user
2.Electronic control system of concrete trailer pump
Japan Mitsubishi Programmable Logic Controller (PLC) electronic control system.
Main electric elements are imported original Schneider, Siemens, OMRON, LG etc.
The control mode: manual operation and wireless remote control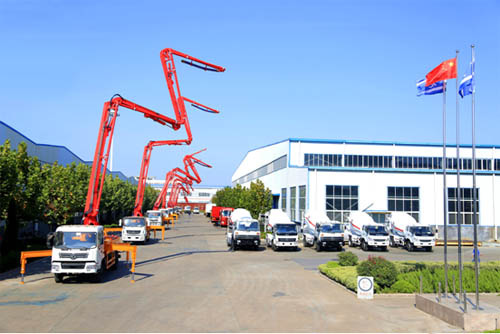 Humanity and intelligent electronic control system optimizes the person-machine interface.8-digital pumping time accumulation timer provides exact data for the user, Automatic anti-pump function and optimized program design. Automatic trouble monitoring function.
3.Hydraulic system of concrete pumping equipment
The unique open hydraulic system and hydraulic cushion technology contribute to the smaller exchange impact and less heat of the system. Meanwhile, with the famous brand of main pump and hydraulic valve, the safety and reliability of the concrete pump are guaranteed.
The hydraulic pipeline selects the high performance seamless steel pipes and all pipe joints and high-pressure hoses are of the famous brands.
A number of high pressure accumulators and their excellent cushion performance reduce the requirement of S pipe vale for the concrete. The concrete is delivered freely.
4.Pumping system of trailer concrete pump
Pumping displacement variable adjustment: Change the pumping displacement according to the construction to meet the requirement of the condition.
Reducing design of the hopper could release the reducing pressure of the concrete into the delivery pipe maximally, and prolong the service life of the S pipe outlet.
5.Lubrication System of trailer concrete pump
The patented central automatic lubrication system comes with a piston grease-pump, features high pressure and reliability, which can realize automatic lubrication of piston. The filters at the outlet and the inlet of oil ports as double protections guarantee the system reliability.
6.Cooling System of trailer concrete pump
Compulsory air-cooled heat exchanger keeps the temperature of the hydraulic oil below 60 degree, that ensures the whole hydraulic system works at normal status.
Why choose our company?
1.High quality pipe with reasonable price.
2.Advanced test equipments and professional inspection measures to guarantee our quality.
3.Our cement pump truck are widely used in construction, water supply and other fields.
4.The after-sale service is good, customers can buy our products without any worries.
5.We can produce different kinds of pipes according to customers' requirements.
6.We have exported our products to many foreign countries. Our products are popular among these countries.
Original source: https://www.concrete-pump-cn.com/a/concrete-pumping-equipment-cement-pump-t.html
Tags: concrete pumping equipment, cem,
Previous: Welcome To HaoMei Concrete Punps Manufacturer
Next: The Basic Maintenance Of Concrete Pump Trailer