Who should be blamed for concrete boom pump truck accidents
Posted On: 31/12/2019 | Posted by: Haomei Concrete Pumps
  In previous articles we discussed two types of cases about concrete boom pump truck accidents, which are caused respectively by pump truck failures and by inappropriate operation of operators. Here we are going to talk about cases in which accidents occur when the truck is not in operation.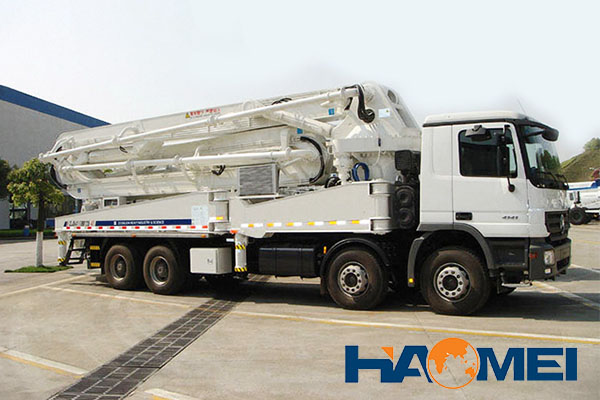 These cases include unexpected falling of a mechanical maintaining person off the truck when he or she is walking along the stairs, and injuries caused when the person is replacing pistons, spectacle plates or cutting rings. Owing to the fact that a concrete pump truck is not in working condition while such an accident happens, it has little to do with the operator, unless that the operator participates the maintenance process and causes injuries to other people. Then who should shoulder the responsibility? The answer is the truck owner, for the maintaining staff is working for the owner after all.
  Taken together, the responsibility shouldering part of boom pump truck accidents varies with the reasons of an accident. If it is purely caused by poor states of a truck, the owner of the truck takes full responsibility. If it's caused by wrong operation, the operator is blamed. And for injuries of maintenance staff, it is the owner who take the blame most of the time. Nevertheless, things are seldom so simple in practice. In some cases each part might be obliged to take a part of the responsibility.
  Most accidents, however, are avoidable. This takes efforts of all sides. Concrete pump truck owners should have vehicle inspection legally and punctually. Operators must get valid certificates before getting to work, and maintenance people should be careful enough. Only in this way can we keep safety accidents outside the door. Haomei wishes all our clients, their operators and maintaining workers safe and sound in the coming year!
Original source: https://www.concrete-pump-cn.com/a/concrete-pump-truck-accident-3.html
Tags: concrete boom pump truck, conc,
Previous: Who should be blamed for concrete boom pump truck accidents
Next: How to Solve Pipe Blockage of Concrete Trailer Boom Pump