Buy pump concrete mixer or rent a concrete pump
Posted On: 05/05/2017 | Posted by: Haomei Concrete Pumps
Buy pump concrete mixer or rent a concrete pump is a problem for everyone.In today's construction equipment marketplace, you can find a truck-mounted concrete pump or pump concrete mixer for almost any application,To find a machine that matches your specific job requirements without breaking your budget, these questions you should consideration before you buy it.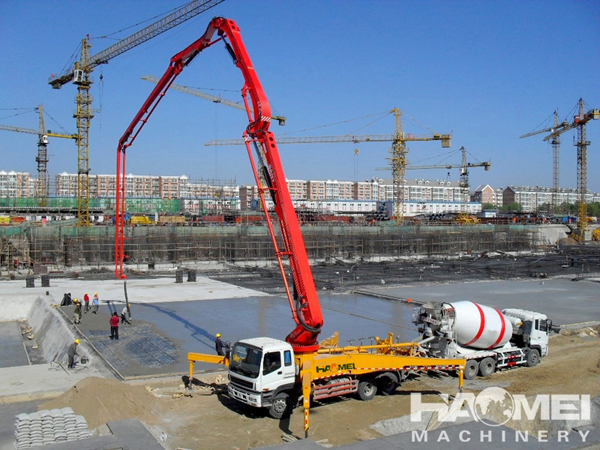 On the general concrete pour, your goal is to place the concrete as close as possible to its final destination—not only to save hauling time and boost productivity, but also to avoid overhandling of the concrete. But on many decorative concrete jobs, the ready-mix truck can't gain access to the work site. When you're placing a stamped concrete patio in a fenced backyard or a decorative floor inside in an enclosed building, you must find another way to move the concrete from the truck to the point of placement ,this situation need a pump concrete mixer, from pressure grouting and shotcreting to placing cement-based overlays and structural concrete.
For conveying concrete to restricted sites , a truck-mounted concrete pump is often the ideal solution. Not only are these compact pumps convenient for small residential pours, they can also serve as an alternative to high-volume boom pumps on large decorative pours that require slower output rates, such as intricate stamped concrete projects.
So it is necessary to purchase a concrete pump replase rent a pump that can accommodate a variety of mixes while others are engineered for specific mix types. Generally, the maximum aggregate size the pump can accept will govern the type of material it can churn out efficiently.
Original source: https://www.concrete-pump-cn.com/a/buy-pump-concrete-mixer-or-rent-a-concre.html
Tags: pump concrete mixer, concrete p,
Previous: The market price of concrete boom will rise
Next: Diesel concrete pump Pumping Principle by concrete pump manu