The Attendence of Haomei Concrete Pumps in Jakarta Inter Exhibition
Posted On: 12/10/2017 | Posted by: Haomei Concrete Pumps
This was really a good chance to take a taste of local food and culture. In general, this was a good trip and we gained a lot on this international construction machinery exhibition! Many customers enhanced their trust in us and had a deep understanding of our history and our product series like different types of concrete pumps.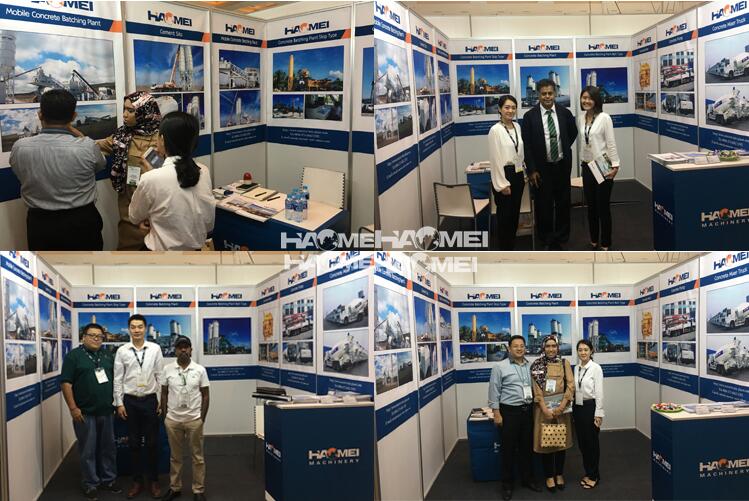 Thanks to Jakarta, thanks to Indonesia, if it was necessary, we were happy to be there next time!
Although the Jakarta International Expo closed successfully in Indonesia on 16th September, many clients were interested in our concrete batch plant, mixer trucks,trailer concrete pump. They were going to purchase from Haomei Machinery! During spare time, our sales manager also visited our customers in Indonesia, and they were warm welcomed.
Although thus expo only last 3 days, our colleague were really very busy, many friends all over the world had attended this Expo. Numerous visitors came to our booth asking for the details of concrete equipment. Our sales manger Katrina said she was "busy and happy", busy for introducing products to clients, happy for we could help them on their project!
Jayee is another sales manger who attended this Expo. He had an order on this exhibition already! Without rest, they throwed themselves into work after returned, for so many people intendeded to purchase concrete batching plant, pumps and mixers! Thanks to this Expo, not only we get more orders, but also our customers find the best machine they need.
Original source: https://www.concrete-pump-cn.com/case/the-attendence-of-haomei-concrete-pumps-in-jakarta-inter-exhibition.html
Tags: concrete pump supplies,
Previous: Thailand Client Visit to Our Concrete Pump Factory
Next: Concrete Line Pump to Nigeria