What should do first for concrete pump pipe blockage
Posted On: 25/05/2017 | Posted by: Haomei Concrete Pumps
When you meet the concrete pump pipe blockage,what should you do first?First of all, you have the ability to identify concrete pump pipe blockage.
When the evidence of pipe blockage just occurs, adopt measure immediately, which is very important for preventing pipe blockage.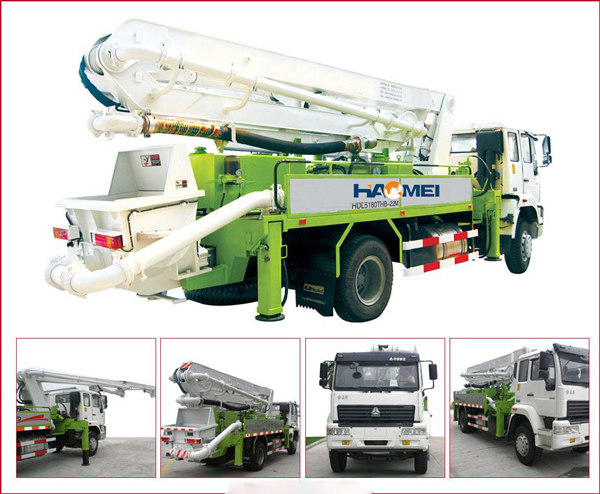 Under normal situation, the maximal pumping oil pressure will not reach to the set pressure; when the normal pumping circulation stops automatically and the overflow valve of main oil circuit sends out overflowing sound, it indicates that there is pipe blockage. Now, press down the reverse button of piston to make the two cylinders respectively conduct one or two strokes of reverse pumping circulation to suck some concrete in the pipeline to the hopper, thus, the pipe blockage can be eliminated. Sometimes, such reverse pumping operation is effective after conducting for several times. If the circulation is still abnormal after several times of reverse pumping, it indicates that the pipe is blocked.
Then judgment of stationary concrete pump blocked part quickly,After the pipe is blocked, conduct pumping—reverse pumping operation, simultaneously, appoint other persons to seek the blockage part along the delivery pipeline. Generally, the checking is started form the pump outlet, the unblocked pipe section will vibrate violently, but the pipeline behind the blocked part is still. Another method is beating the pipeline with wooden hammer to exam and judge the blocked part depending on the hand feeling and sound.
The taper pipe and elbow pipe are easy to be blocked. During long distance horizontal delivery, if the mortar leaks from the pipe joints, the straight pipe behind the joints is also easy to be blocked.
The processing method of stationary concrete pump pipe blockage,We will discuss the next time.
Original source: https://www.concrete-pump-cn.com/a/what-should-do-first-for-concrete-pump-p.html
Tags: concrete pump pipe, stationary,
Previous: Processing method of stationary concrete pump pipe blockage
Next: How to effectively prevent pump truck pumping failure