The ending work of pumping concrete
Posted On: 23/05/2017 | Posted by: Haomei Concrete Pumps
After ending work of pumping concrete, the concrete in delivery pipe should be delivered to the pouring working surface by air pressure or water pressure, therefore, before the completion of pumping,estimate the concrete amount in the delivery pipe and understand the requirements of pouring working surface to master the pump stop opportunity.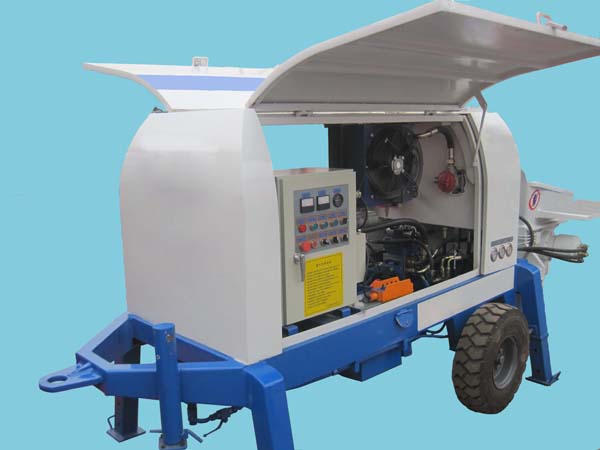 After pumping all the material in the hopper out, conduct the following ending work at once:
(1) Cleaning of concrete pumping equipment delivery pipe
There are two methods for cleaning the pipe: gas cleaning and water cleaning.
This concrete pump adopts water cleaning with by high pressure water. The pump with S pipe valve can clean by itself, the pump with other valve types should be equipped with high pressure water pump or specialized washing pump accessory, which also needs a inflowing joint similar to gas cleaning joint; there is a water valve on the pipe connected with high pressure water pump; a sponge ball and a rubber plug should be stuffed in the inflowing joint, the rubber plug, at the front part, contacts with concrete, while the sponge ball, at the rear part, contacts with high pressure water, from the discharge hole to pipeline outlet.
(2) Cleaning of concrete pumping equipment
After finishing pumping the concrete, clean the pump and accessories in time.
If no longer using the pump within several days, or the pump is left unused during cold seasons, disassemble the rubber piston and discharge all the water in water supply system.
Original source: https://www.concrete-pump-cn.com/a/the-ending-work-of-pumping-concrete.html
Tags: concrete pumping equipment, pum,
Previous: Principle of choosing cement pump machine arrangement scheme
Next: Processing method of stationary concrete pump pipe blockage