Portable concrete pump is easily carried or moved
Posted On: 30/11/2017 | Posted by: Haomei Concrete Pumps
Portable concrete pumps are are widely used on small job sites where a full-sized pump truck is not required.versatile units, typically employed to pump structural concrete, grout, foamed concrete, sludge, wet screeds and mortar. Portable concrete pumps are available in different sizes for different job applications.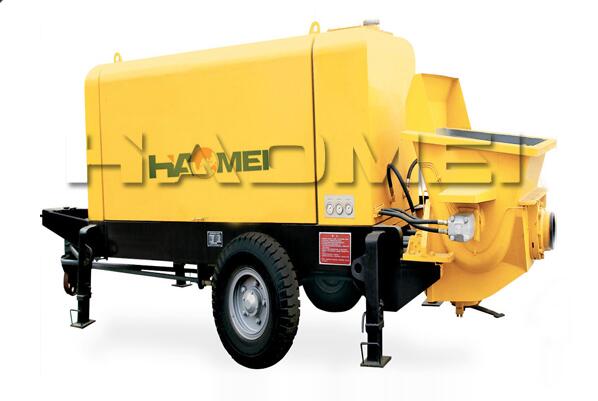 A concrete pump is a system designed to deliver concrete through pipes. While pumping can be used in almost all construction sites, it is especially useful in projects where space for equipment is limited. The pump can be placed out of the way and still pour concrete through a pipeline to the spot it is needed.
The pump, depending on the manufacturer and model, generally consists of a receiving hopper, two concrete pumping cylinders, and a valve system controlling the flow of the concrete from the hopper to the pipeline. One cylinder receives from the hopper while the other dispenses to the pipe. The pipeline is made up of both steel lengths of pipe and heavy duty flexible hose.
Portable concrete pump refers to a kind of concrete pump, which is designed to be easily carried or moved. HAOMEI machinery is very excellent among concrete pump machine manufacturers. Its pump is really popular in the construction machinery market on account of its compact design, high-quality materials, convenient movement, broadly application and stable performance.
We are using PLC system, remote operate with the help of PLC fault detection is easily operated. We are using world class Rexroth axial piston pump. When the operation is completed for the day, you can clean the pipeline using sponge balls and water under pressure, because of positive S valve sealing.
Convenient movement
Another advantage of portable cement pump for sale is that it is very convenient to move them.
Most of our pumps are truck-mounted concrete pumps. Compared with those pumps that cannot be moved, our portable pumps can be driven to different sites by motor tractors.
Compact design and high-quality materials
Portable cement pump has a compact design. For one hand, it occupies less land occupation, for the other hand, it can save cost.
The main body is made of Q235. Q235 is a kind of low carbon steel. Its carbon content is less than ten thousandths, which leads to good welding performance and plasticity.
We have got 3 basic models, M15, M50 and M60. M15 is the smallest capacity model and multipurpose pump in M15 we are using 60 hp diesel engine. Maximum vertical height reached is 45 m horizontal maximum distance 150m at 95 bar pressure. Maximum aggregate size is 20mm. discharge outlet 75mm to 100mm. M50/M60 is used for mass pumping. We are using up to 240 hp max. Diesel engine, Vertical height 250m and horizontal distance 1000m.Any intersets please contact us (Email :info@haomei.biz) freely.
Original source: https://www.concrete-pump-cn.com/a/portable-concrete-pump-is-easily-caporta.html
Tags: portable concrete pump, concret,
Previous: Schwing concrete pumps for sale
Next: Small concrete pump can transport concrete to a place easily