How to Clean Concrete Pump Trucks
Posted On: 01/03/2018 | Posted by: Haomei Concrete Pumps
Combining advantages of concrete mixer trucks and concrete pumps,
concrete pump truck
s double the efficiency of concrete delivery and pouring in construction. However, each coin has two sides. The long flexible placing boom, which enables a
concrete pump truck
to pour concrete precisely onto targeted spots like a nimble arm, gives rise to a practical problem as well. As known to all, once solidified, concrete becomes as hard as iron and it will become almost impossible to remove it, that's why tanks of mixer trucks keep rotating. Just imagine how hard it would be to clean solidified concrete if it blocks in the long narrow arm of a
concrete pump truck
! Therefore, operators must attach utmost importance to the cleaning work.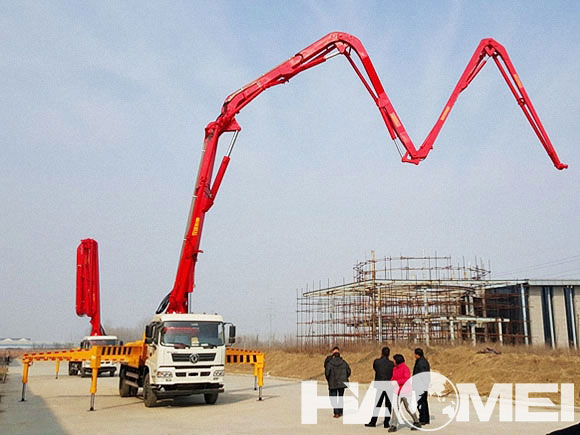 How to clean a
concrete pump truck
after work? Generally speaking, there are two usual ways. The first way is to use water, which serves as the most traditional yet effective way of cleaning for almost everything. The valve cabinet and the hopper must be cleaned first. Then cement bags tied into cylinder shape and cleaning balls should be put into clean taper pipes which should be further connected to the pipe. Then close discharge door before sending water continuously into the hopper. The water can be sent by a pump which should not be stopped until the cleaning ball goes out of the head end of the delivery pipe. The second way to clean a
concrete pump truck
is by compressed air. Wet cleaning ball should be put into the connector of air washer which should be then joint with the first straight pipe connecting the reducer tube. After that safety cap should be placed onto the rear end of the pipe. The pressure of compressed air should be controlled below 0.8MPa and the air should not be strong until concrete is squeezed out of the pipe smoothly.
Original source: https://www.concrete-pump-cn.com/a/How_to_Clean_Concrete_Pump_Trucks_163.html
Tags: concrete pump truck,
Previous: Introduction to concrete pumps for sale
Next: Principle for Warming up of Concrete Pump Truck