Concrete Pump Factory Manufacturer Tips You The Safety Rules
Posted On: 10/10/2016 | Posted by: Haomei Concrete Pumps
1. After the concrete pump production, should stop feeding the slurry pump concrete and all sent, according to the following shutdown sequence:
(1). Stop pumping
(2). Turn off the power source.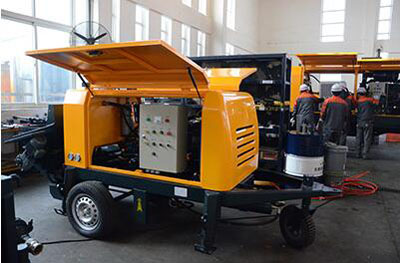 2. When the pump stops, immediately remove the hopper and concrete pipes, cleaning (washing water or gas) pump, hopper valve boxes, pipes and so on. While cleaning, personnel should leave the discharge gas nozzle and elbow joints, to avoid accidents.
3. If the concrete pump is powered by an electric motor or diesel engine, observe the "Motor security rules" or "diesel engine safety rules" on the use of part.
4. The pipeline should be firmly supported, the connectors should be firmly coupling can't be pressurized or hanging weights on the pipe.
5. Open the release valve, open the motor idling for 2-3 minutes, check whether the components in the normal direction of rotation is correct.
6. The pumping process, pay attention to the pressure gauge indicates more than the prescribed pressure should immediately identify the reasons for troubleshooting.
7. Should check squeeze tube wear and tear, such as found in plasma leakage should stop to check the repair or replacement, in order to continue operations, it found clogging, timely check processing.
8. Downtime due to failure, open the vent valve so that the pressure drop pulp and troubleshooting. No concrete pump pressure drops to zero, do not remove the air chamber, pressure relief valve and piping, but extends into the body can't handle the operation.
9. In the operation of the machine, it is prohibited to make any adjustment and maintenance work can't climb or ride on the pipeline.
10. The manual cleaning rotating pump parts, should pay attention to stand in a safe location, beware of slipping into a stirred tank (bucket) in the. When cleaning pump housing, be careful not to make the water into the electrical box, solenoid valves and other parts. After cleaning the electrical box outside the hood clean water.
Original source: https://www.concrete-pump-cn.com/a/Concrete_Pump_Factory_Manufacturer_Tips_You_The_Safety_Rules_40.html
Tags: concrete pump,
Previous: Trailer Concrete Pump In Hot Sale
Next: S Value Struction Of Small Portable Concrete Pump