25m 29m 33m truck mounted concrete boom pump
Posted On: 13/07/2017 | Posted by: Haomei Concrete Pumps
Truck mounted concrete boom pump include 21m, 22m, 24m, 25m, 27m, 29m, 32m and 33m. Most popular models are 25m, 29m and 33m. Most of components are world top brands to ensure best performance. The truck is 4*2 with small size that could drive and work in narrow roads. The whole machine is with high mobility, high reliability, high intelligence, high efficiency, low cost, low maintenance cost, especially widely used for small and medium projects.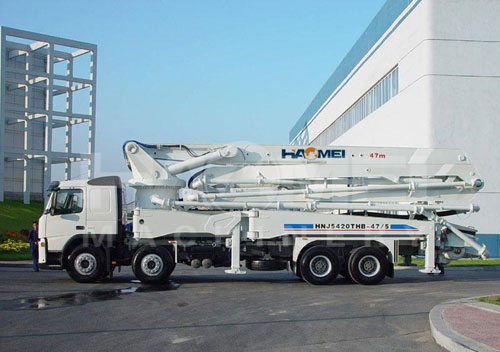 25m 29m 33m truck mounted concrete boom pump instruction:
1,Pumping hydraulic system
Overall hydraulic commutation system, the alternative commutation actions between pumping and S tube distribution doesn't involve electric signals. Little impact and noise occurs during the commutation, so the service lives of hydraulic pump and valves are evidently lengthened.
2, Intelligent control system
Adopt concentration plate to make the man hydraulic system valve more concentration, reduce the pipeline road cross, save every drop of oil pump. Intelligent control system make the driving oil flow, directly input the driving oil cylinder.
3,Automatic control
Unique arm frame buffer technology can reduce the high pressure value of system, even in the case of high output to make the boom steady.
4,Energy saving control system
Independent design, research and concrete piston back technology to make the piston maintenance more convenient. The realization technology make the pumping high and low voltage switch more convenient.
5,Efficient pumping
Large diameter cylinder, big pump flow.
6,Convenient maintenance system
Manual hydraulic synchronous lubricator can timely lubricate concrete piston and hopper,and convenient of lubricating oil way. Return oil filter and oil suction valve to let the hydraulic circuit maintenance can easily close the hydraulic oil in the tank. Make maintenance more convenient and quick.
Original source: https://www.concrete-pump-cn.com/a/25m-29m-33m-truck-mounted-concrete-boom-.html
Tags: concrete boom pump, truck mount,
Previous: YHZS60 mobile concrete plant was installed in Davao
Next: The attention matters for boom pump in the construction